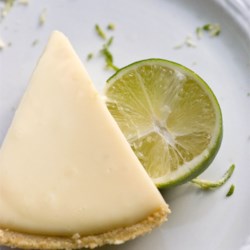 "This recipe uses condensed milk and sour cream. Fabulously easy. . . a summertime favorite! If you have time, a homemade graham cracker crust is better! Garnish with whipped cream and thin slices of lime if you like."
Ingredients
1 (9 inch) prepared graham cracker crust
3 cups sweetened condensed milk
1/2 cup sour cream
3/4 cup key lime juice
1 tablespoon grated lime zest
Directions
Preheat oven to 350 degrees F (175 degrees C).
In a medium bowl, combine condensed milk, sour cream, lime juice, and lime rind. Mix well and pour into graham cracker crust.
Bake in preheated oven for 5 to 8 minutes, until tiny pinhole bubbles burst on the surface of pie. DO NOT BROWN! Chill pie thoroughly before serving. Garnish with lime slices and whipped cream if desired.
The same way you would make a graham cracker crust for a cheesecake you could put that in a pie plate or tin for this crust to make it gluten free. Use 2 to 3 tablespoons of melted unsalted butter with 1 package crushed gluten free graham cracker crumbs (s'morables). Press into dish.
To make low fat you could use fat free sweetened condensed milk and fat free sour cream.
ALL RIGHTS RESERVED © 2016 Allrecipes.com
http://allrecipes.com/recipe/15880/key-lime-pie-vii/print/?recipeType=Recipe&servings=8