Started taking this because I have no gall bladder and I need the good oils. I can for sure handle 1 G of fat from these each day.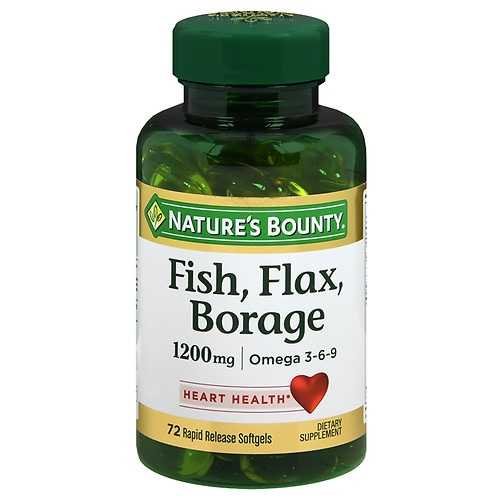 Omega 3-6-9
Purified to Eliminate Mercury
Rapid Release Liquid Softgel
This exceptional product is a blend of Flax, Fish and Borage Oils, that contain the polyunsaturated fatty acids your body needs including, Omega-3 (EPA & DHA), Gamma-Linolenic acid (GAL) and Omega-6. Fatty acids are important for promoting heart, cellular and metabolic health.* This product also includes Omega-9 fatty acids, which are important for the body's immune system.*
No Artificial Color, Flavors or Sweetener, No Preservatives, No Sugar, No Starch, No Milk, No Lactose, No Gluten, No Wheat, No Yeast, No Fish. Sodium Free.
1 G Fat per softgel
http://www.drugstore.com/natures-bounty-omega-3-6-9-fish-flax-borage-1200-mg-softgels/qxp186881