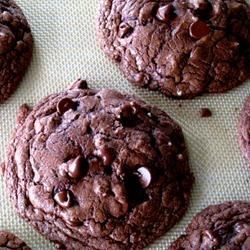 1/2 cup
unsweetened applesauce
Directions
Preheat oven to 350 degrees F (175 degrees C). Grease (cooking spray) cookie sheets.

In a medium bowl, stir together the cake mix, eggs and applesauce until well blended. Fold in the chocolate chips. Place the cookies 2 inches apart on the cookie sheet.

Bake for 8 to 10 minutes in the preheated oven. Allow cookies to cool on baking sheet for 5 minutes before removing to a wire rack to cool completely.
By AllRecipes.com